We are a small breeder and produce only one litter per year.
If you would like the opportunity to own a Dogue de Bordeaux from Gone to the Dogues de Bordeaux Kennel and you would like to have your name added to our 2011 list, please contact us as soon as possible as we have a first come first served policy.
Your name will be placed on our Potential Puppy Owner list to fill out a Puppy Ownership Questionnaire.
Once we receive your completed questionnaire you will be notified when we have confirmation that the breeding was successful.
At that time you'll be required to pay a $500 deposit which is nonrefundable, except in the case where we are unable to provide you with a puppy. Your deposit will be deducted from the purchase price of $1500.
As we are selling our dogues as companions only, purchasers will be required to sign a binding Non-Breeding Agreement.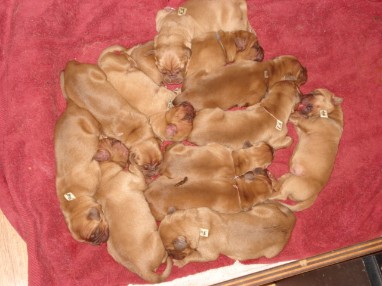 12 puppies from Trouble and Lookout's first litter, January 28th, 2010.