We are breeders of the Dogue de Bordeaux.
We are located in the city of St. John's, Province of Newfoundland Labrador (NL).
St. John's is the oldest city in North America and NL the most easterly Province of Canada.
Our sire Lookout was born on March 1st 2008 and came to us from breeder Corrine Sauter, Diamond North Dogue de Bordeaux in Saskatchewan, Canada.
Our dam Trouble was born on April 1st 2008 and came to us from breeder Donnie Madaras, Madaras Dogue de Bordeaux in Indiana, U.S.A.
Our Dogues come from European Champion Bloodlines.
Lookout's grandfather is Cetje van't Bulscampvelt of L'Aube Rouge in Belgium, the most famous black mask Dogue de Bordeaux in Europe.
Champion Cetje Van't Bulscampvelt x Volga du Ruisseau de la Noue = Crock du Ruisseau de la Noue of Diamond North.
Crock du Ruisseau de la Noue x Zarr's Lil Renegade Angel = LOOKOUT !
Trouble's grandfather is Champion Sinbad De Legeane and her great grandfather is the famous Multi Champion Temple Felson.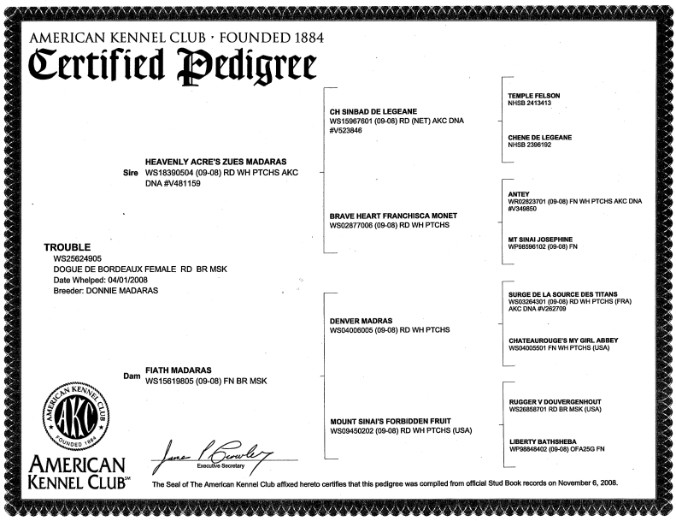 We believe there is no such thing as a bad dog, just bad owners. All dogs must be socialized from an eary age and Dogues are no different. Dogues have a natural instinct to be friendly and loving, but at the same time you'll never find a dog more loyal and protective of their family than a Dogue de Bordeaux. We must warn you though....Dogues adore children and even when Dogues are puppies they love being around them! When a child is in the company of a Dogue, the Dogue will protect the child with a gentleness that is amazing given its size.